OAKLAND DISCRIMINATION LAWYERS WITH YEARS OF TRIAL ATTORNEY EXPERIENCE
ATTORNEYS FIGHTING FOR THE RIGHTS OF WORKERS IN ALAMEDA COUNTY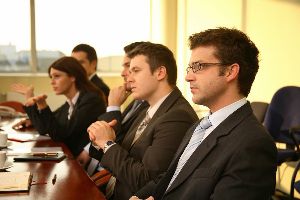 California discrimination victims may sue employers or others who illegally discriminate. Geonetta & Frucht, LLP is an award-winning law firm with over fifty years of combined legal experience fighting for the civil rights of discrimination victims.
An experienced attorney with Geonetta & Frucht, LLP will offer an honest evaluation of your discrimination claim, aggressive representation, and seek the best possible resolution of your case.
The attorneys with our practice are recognized by the legal community – and by our clients – as one of the top Oakland-area law firms. Our lawyers have many positive reviews, which are the evidence of that recognition.
A skilled lawyer with Geonetta & Frucht, LLP will not accept anything less than the best available award or settlement amount on your behalf.
WE AGGRESSIVELY REPRESENT THE VICTIMS OF DISCRIMINATION IN ALAMEDA COUNTY
When a California employer discriminates against you because of your race, religion, age, disability, gender, nationality, orientation, or pregnancy, it is probably against both state and federal law. Discrimination in employment can include favoritism, the denial of benefits, unwanted sexual advances, or firing someone because of that person's race, religion, age, disability, gender, nationality, orientation, or pregnancy.
During an employment interview, an employer may not ask about an applicant's marital status, sexual orientation, children, or about certain criminal arrests and records. Federal law specifically prohibits workplace discrimination. If you are facing any kind of discrimination at your workplace, it should stop immediately. Let an experienced discrimination attorney at the law firm of Geonetta & Frucht, LLP fight on your behalf to bring an end to employment discrimination.
If you are a target of employment discrimination in Alameda County, Santa Clara County, San Francisco, or anywhere in California, take the first step toward justice – right now – and consult a discrimination lawyer at Geonetta & Frucht, LLP immediately. Your first legal consultation with us won't cost you a cent.
HOW CAN A DISCRIMINATION ATTORNEY HELP ME?
In California, this state's Fair Employment and Housing Act (FEHA), which took effect in 1959, specifically makes employment discrimination for any of these reasons illegal: race, ethnicity, or religion; nationality, ancestry, or mental or physical disability; marital status, medical condition, age, or pregnancy; and sex, sexual identity, gender, or gender expression. FEHA is only one of several California laws that protect employees from discrimination.
Employment rights are additionally protected at the federal level under Title 7 of the Civil Rights Act of 1964, which prohibits companies with fifteen employees or more from discriminating against an employee on the basis of that person's race, religion, gender, or national origin. California offers even more protection under the Fair Employment and Housing Act. If you work in this state for a smaller business with five to fourteen employees, your employment rights are protected under FEHA.
The Americans with Disabilities Act (ADA) is a federal law created to stop discrimination against persons with disabilities. If you are facing employment discrimination at work because of a disability, that discrimination is against the law. For over 25 years, the ADA has been federal law, but some employers in California still are not in compliance. As a result, scores of disabled Californians have sued employers for discrimination, and many of them have prevailed.
The attorneys at Geonetta & Frucht, LLP prefer to obtain mutually agreed-upon out-of-court settlements for our clients in discrimination cases, but when such a settlement is not available, we will take your case to trial and settle for nothing less than what you deserve. We will advocate aggressively and tirelessly on a client's behalf, and our record of courtroom success speaks for itself.
WHY IS IT SO IMPORTANT TO FIGHT EMPLOYMENT DISCRIMINATION?
Everyone has bills to pay, and many of us have families to feed, so it is simply wrong for an employer to discriminate against you or to humiliate you while you're just trying to earn a living. If your employer discriminates and you are the target, do not allow anything to keep you from fighting back with a proper legal response. If you experience age discrimination, disability discrimination, sexual harassment, or any other kind of employment discrimination, contact Geonetta & Frucht, LLP right away. Retaliation against an employee who reports discrimination is illegal, so you can take action with complete confidence that the law is on your side.
If you are targeted by workplace discrimination, try to document each incident of discrimination with the dates, locations, and the names of witnesses. Print out emails and keep any other paperwork that can help you to prove your case. If there is a manager, a supervisor, or a foreman you trust, report the discrimination to that person through the company's internal channels; sometimes discrimination can be stopped without legal action. However, if you become a target of employer retaliation as a result of reporting discrimination, or if no change happens in a reasonable period of time, speak with an Oakland employment attorney at Geonetta & Frucht, LLP.
IS ILLEGAL DISCRIMINATION RESTRICTED TO EMPLOYMENT?
Of the fifty states, California's anti-discrimination laws probably offer employees the most legal protection. Employers in California may hire and fire whomever they please, but when they reject a job applicant or terminate an employee, that rejection or termination must be for job-related reasons that are not linked to discrimination. California law also extends protections against discrimination beyond the workplace. In our state, for example, housing discrimination is just as illegal as employment discrimination.
If you are a landlord or if you are planning to become a landlord in California, you should know that the U.S. Department of Housing and Urban Development (HUD) actively enforces the housing provisions of the California Fair Employment and Housing Act of 1959. Additionally, some disability rights organizations – sometimes even backed by direct funding from HUD – actively seek out California landlords who practice discrimination.
CONTACT OUR OAKLAND DISCRIMINATION LAW FIRM TODAY
Let a discrimination attorney at Geonetta & Frucht, LLP provide the legal counsel and representation you need if you have suffered employment or housing discrimination. Our discrimination attorneys will stand by your side until we achieve the best possible resolution of your discrimination claim. If you have been discriminated against in housing or employment, we can discuss your rights and recommend an appropriate, effective legal response. Contact us online through the contact form on this website or call our office in today at 510-254-3777 to arrange a legal consultation. Your first consultation with an attorney is free.