OAKLAND WORKPLACE HARASSMENT LAWYER DEFENDING EMPLOYEES IN ALAMEDA COUNTY
ATTORNEYS FIGHTING FOR THE RIGHTS OF EMPLOYEES WHO HAVE EXPERIENCED UNFAIR WORK ENVIRONMENTS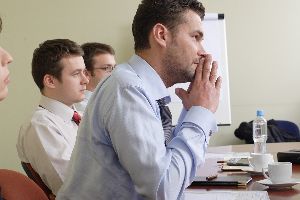 Geonetta & Frucht, LLP is an award-winning, top law firm. Our team of attorneys aggressively defend the rights of workers across California.
With more than five decades of combined legal experience, our lawyers have some of the best reviews for law firms in Oakland, as well as a number of prestigious legal awards.
An attorney with Geonetta & Frucht, LLP will provide honest, top-quality legal advice and aggressive advocacy on your behalf while fighting for the best resolution of your workplace harassment claim.
By law, the victims of workplace harassment are entitled to compensation. An employment rights attorney at Geonetta & Frucht, LLP will fight hard for the best possible award or settlement of your workplace harassment case.
WHERE CAN YOU TURN TO FIGHT WORKPLACE HARASSMENT?
At Geonetta & Frucht, LLP, we are California attorneys who are passionately committed to defending the employment rights and civil rights of workers in Alameda County, Santa Clara County, San Francisco, and across the Bay Area and the state. With more than five decades of combined legal experience, Geonetta & Frucht, LLP is an aggressive advocate for workers and their rights. If you are experiencing workplace harassment for any reason, arrange at once to speak with an experienced employment rights lawyer at Geonetta & Frucht, LLP. We will fight for your rights.
When we talk about harassment at a place of work, we usually mean sexual harassment, because that is perhaps the most frequently occurring kind of workplace harassment. Harassment at work, however, includes all types of harassment. Any workplace setting where a person is harassed because his or her age, religion, disability, or sexual orientation – for example – is potentially what the law calls a "hostile" work environment, and a hostile work environment is against the law.
WHAT IS THE DEFINITION OF A HOSTILE WORK ENVIRONMENT?
Exactly what is a hostile work environment? Although workplace harassment is prohibited at the federal level by the Civil Rights Act of 1964, the U.S. Supreme Court has determined (in Oncale v. Sundowner Offshore Services, Inc., 1998) that the law does not necessarily prohibit all simple teasing, offhand comments, or isolated incidents. To be illegal, harassment must be offensive to a degree that impacts or alters the work environment and/or the conditions of one's employment. While isolated, trivial harassment incidents on the job may not be actionable, conduct that creates an offensive or hostile work environment is illegal under both federal and California law.
Under the law in California, the Fair Employment and Housing Act of 1959 (FEHA) prohibits harassment in the workplace and requires employers to "take reasonable steps" to eradicate workplace harassment and hostile work environments. Overwhelmingly, the majority of employers in California are compliant with the law and work diligently to stop any emerging workplace misbehavior before it rises to the level of unlawful conduct.
As of April 2016, employers in California with five or more employees have an affirmative legal duty to take reasonable steps to prevent and eliminate discrimination and harassment. Under the regulations that took effect in 2016, employers in California must create detailed written policies for preventing workplace harassment, discrimination, and retaliation. An employer must distribute the written policies to all current and future employees. If ten percent or more of the workers at a given job site speak a language other than English, the employer must have the written policies translated into that language or languages.
WHO PERPETRATES WORKPLACE HARASSMENT AND WHO CAN BE TARGETED?
Workplace harassment can be perpetrated by supervisors, colleagues, contractors, or almost anyone who is routinely at the job site. Harassment at the workplace can include slurs, epithets, name-calling, offensive jokes, threats, intimidation, humiliation, and obstruction of one's work duties. The victims of workplace harassment are not even always employees. Contractors, volunteers, interns, and even customers and clients can become the targets of workplace harassment, and when that happens, those victims have the same right as employees to take legal action and to seek justice.
The attorneys at Geonetta & Frucht, LLP often obtain negotiated, out-of-court settlements for our workplace harassment clients, but we are always able and ready to provide representation at trial if a workplace harassment claim cannot be settled to your satisfaction through negotiations. Geonetta & Frucht, LLP's impressive record of success in the California courts speaks for itself. Our clients and our legal community colleagues recognize us as a leading California law firm in the defense of employees' rights.
Workplace harassment victims need to know that any retaliation by an employer against an employee for reporting workplace harassment is illegal, so we can help you fight for justice with confidence that the law is on your side. In this state, FEHA provides employees with iron-clad legal protection against any type of on-the-job harassment. Geonetta & Frucht, LLP can fight for justice on your behalf. We've successfully handled a number of workplace harassment cases over the years, and we are ready to help you. We listen closely to clients so that we can fight for you effectively and help you get the justice you deserve as a victim of workplace harassment.
ARE WORKPLACE HARASSMENT VICTIMS ENTITLED TO COMPENSATION?
Under the law in the state of California, most victims of workplace harassment are entitled to monetary compensation. A workplace harassment lawyer at Geonetta & Frucht, LLP will fight aggressively to protect your rights, will hold the perpetrators of workplace harassment legally accountable, and will accept nothing less than the maximum available settlement or verdict amount on a client's behalf.
Protecting your rights on the job from a shady employer is something that nobody in California should ever have worry about. Unfortunately, however, some employers in this state still take advantage of their employees, violate their rights, and put their jobs at risk. When taking advantage of an employee becomes a routine practice and creates a hostile work environment, we can help. For quite a few years in the state of California, Geonetta & Frucht, LLP has been effectively and successfully holding shady employers accountable for their illegal actions.
To discuss a workplace harassment claim with an experienced employment rights lawyer, you can reach us online – right now – by completing the contact form here on our website or by calling our law offices in Oakland at 510-254-3777 to schedule a consultation. We'll explain your rights and where you stand legally, and your first consultation with a member of the Geonetta & Frucht, LLP legal team is free.