Oakland Employment Lawyer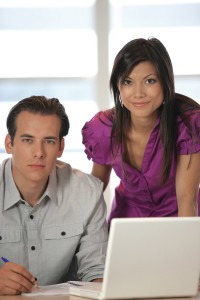 Employment legislation in California extensively protects the rights of employees in this state. Some employment rights are also protected by United States federal law. If your employer has violated your employment rights, contact the law firm of Geonetta & Frucht and speak at once with an experienced employment lawyer.
Whether the issue is discrimination, wages and hours, sexual harassment, breach of employment contract, or wrongful termination, you'll need the advice and services of a qualified law firm fully understands federal and state business law and routinely protects the rights of discrimination and harassment victims.
If your employer has violated – or is violating – your employee rights in California, contact an employment lawyer at the firm of Geonetta & Frucht as quickly as possible.
WHEN RIGHTS ARE THREATENED
You are protected under California law from workplace discrimination based on race, color, nationality, age, disability, gender, religion, or pregnancy. While an employer may fire an employee "at will" in California – that is, for no particular reason – employers cannot fire you for a reason that is illegal. No California employee can be terminated in an act of retaliation or discrimination – that's wrongful termination. It's sad to report that shady employers still violate people's rights, put their jobs at risk, and harm their family members who rely on this source of income.
If your business rights are violated, take action right away. Let an experienced Oakland business attorney at the top law firm of Geonetta & Frucht help you and advocate for justice on your behalf. Every minute matters when it comes to employment law matters, so don't waste any time–contact a member of our team today.
WE LISTEN TO YOUR CONCERNS
The Alameda County employment lawyers at Geonetta & Frucht bring a combined half-century of experience to our clients throughout northern California. Our attorneys have represented clients in cases involving wage and hour laws, terms of employment agreements, discrimination, and more. We offer our clients the knowledge and resources you might find at a large law firm with the personal service and attention you need from a smaller law practice. We listen to your concerns and work diligently to obtain the results you seek.
To discuss your case with an experienced labor and employment attorney, please contact us online right now via the form on this site or call our office today at (510) 254-3777 for an appointment. We currently have offices in Oakland and the San Francisco Bay Area. Your initial consultation with Geonetta & Frucht is free.